Category Archives:
sissification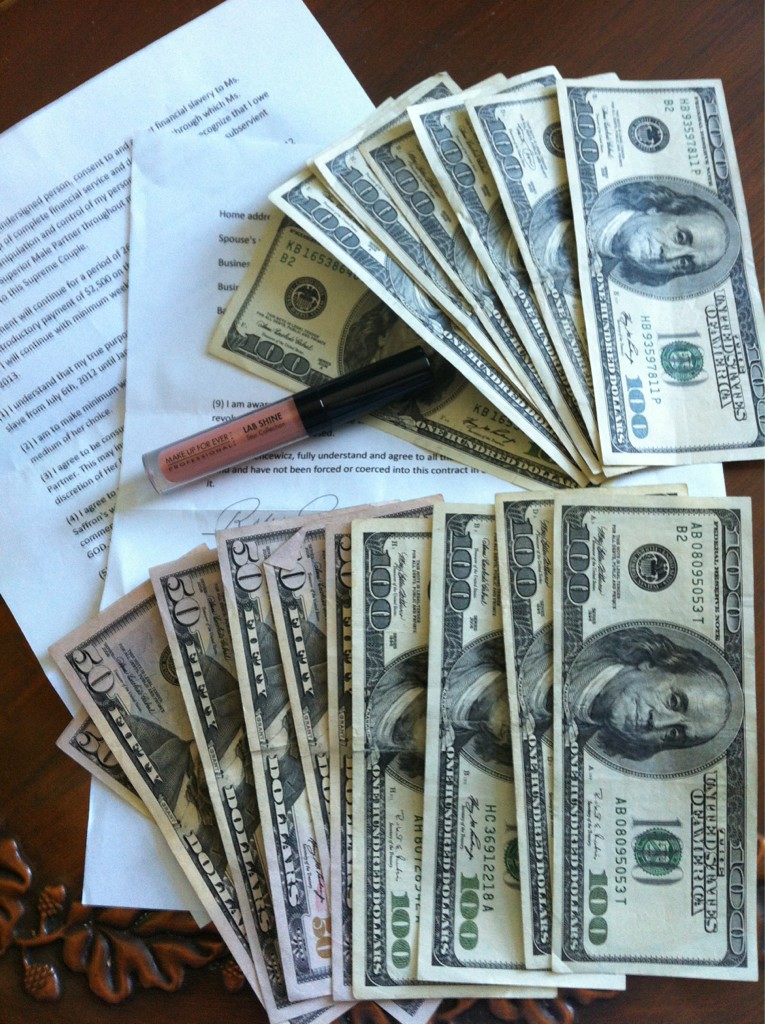 Hello dummies! Has it been a while or what? I barely even know where to start! I've been so busy having so much fun on pig dime that I really haven't bothered to much to maintain My blog or My twitter, and adding in school, I've had so little free time. Before you fret, I've now decided I'm going to make much more of an effort to update you dorks about My lavish lifestyle!
So anyway, if you follow My twitter at all, you probably noticed back in the summer I had My slave maggot signed into permanent servitude with a contract, which you can view on the left. That is part of his initiation tribute, the rest of which he paid on venmo–which I LOVE, by the way–for a total of $2,500. He has been tributing weekly ever since, like a good little slut should, in addition to buying Me all sorts of presents and sending money at My whim in order to fund My wonderful lifestyle. He has spent TENS OF THOUSANDS of dollars on My Glorious Self. Sometimes, My girlfriends and I double team him and screw his wallet especially hard. After all, We deserve it more than anyone, no?
Many slaves get so excited by this notion of long term commitment, but few follow through. My suggestion? Take the leap. maggot knows he will be serving Me forever, through thick and thin, and has come to accept that he will always be working hard for Me, and that I will always be #1 on his mind. The pure satisfaction of serving Me and receiving My abuse is the biggest perk for him, and brings his life meaning and contentment. Slaves that run and hide from Me have Me eating away at their mind forever, wondering what could have been. Isn't the obvious answer to submit?
Anyway, I've collected some photos of a few of the great presents I've received lately, and these really are just a few of My favorites. In addition to all the really cute and awesome stuff below, I've received countless other smaller gifts, an awesome new television, THREE iPads (one for Me, one for My 91 year old great-grandmother, one for a close friend), two laptops (one for My boyfriend and one for My little brother), and TONS of clothes.
Obviously, I absolutely love EVERYTHING I've received (mainly because I leave nothing up to chance and order you to get EXACTLY what I want, haha) but I really especially love My Marc by Marc Jacobs bag! I wear it to school all the time. I also REALLY adore My new Christian Louboutin shoes, however I unfortunately sprained My ankle last weekend and I am still recovering, so I haven't been able to wear them yet :(. I was honestly devastated! I don't think I'm supposed to wear heels for at least another month or so. Oh yeah! And I almost forgot to show off My Gucci bag and My Brian Atwood heels!
I love the cool oil slick look! Aside from all the wonderful gifts I have received, I have been totally living it up. I recently visited some close friends of Mine in Philadelphia and We had a blast dining out, drinking, clubbing, partying, and spending TONS of dumb slave money. A few lucky slaves called My ignore line when We were out to eat, and My friends laughed their asses off when I told them our $500 dinner was going to be COMPLETELY covered by My little lovesick losers! In addition, I purchased a vacation package and I will be travelling to Tuscany, Italy with a family member for a week in February–I'm so excited! I've been to Europe before, but never Italy, and we will be staying in a beautiful farmhouse. We will have a rental car, and will only be about 45 minutes from Florence, which is just amazing. I'll be sure to take a TON of photos!
Anyway, let Me leave you dumb losers with a small reminder of why you are so undeserving of Me. 🙂
And I REALLY can't list the rest of the countless chump change $50 and $25 ones and I'm getting tired of finding gift cards BUT here's some ugly fucktard that sent his photo too, LOL:
ANYWAY, BYE LOSERS! And fuck you 🙂

I've been having such a great time receiving tons of lovely gifts ❤ I've hoarded a SHITLOAD of makeup & amazon gcs, and little cuck bitch can't keep his slutty little wallet closed. You best believe I've been doing a TON of shopping on amazon…
Got TONS of makeup forever stuff (the cream eyeshadows & blusher are SOO amazing, love them so much) plus a cute orange-y lipstick from Benefit for the summer, and a cute lipstick from NARS as well, not pictured. I also love the Urban Decay brow box, definitely one of My favorite brow makeups 🙂 I also have a NARS highlighter on the way, but other than that, I think I'm finally finished with My makeup binge! Wonder what I will binge on next…
Oh! And if you saw My twitter, I got Dexter Seasons 1 through 5 on Blu-Ray, which I am SO excited about. My Man hasn't seen it yet so we are going to watch it together. 🙂 Anyway, onto the most recent displays of affection from My little cuck whore…
My new computer is AMAZING by the way! If you dumbasses know shit about computers, it has an i7 processor, 6GB RAM, and perhaps most importantly, it has an NVIDIA GT 540M 1GB card. I loooove it holy crap <33 SO happy I finally have My own laptop again, My last laptop was a piece of shit and crapped out so I was using My desktop, which is all well and good, but of course I love the portability of a laptop ❤
As for what else is going on with Me, well, I FINALLY started apartment hunting with My BF again, we got kind of sidetracked but we will hopefully be moving in either halfway through this month or the beginning of April. Oh, and of course you dorks will be financing whatever furniture, decorations, and extras We need. 🙂
I've also had a lot of dumb bitches fawning over Me, sending Me love letters….here's one from My stupid foot addict:
Ms. Saffron,

 

I know that I am a disgusting freak. I almost cry when I look at my Niteflirt statement and it shows $80 for less than 20 perfect foot pics. I realize that is nothing to you, but man it hurts to think that $80 of my hard earned money went to pay for a few pics of feet. The worst part is that I am rock har as I write this but am so mad at myself for spending money on foot pics when the internet is loaded with them. Plus my wife loves for me to play with her feet. I am so fucked up that I just sit and wait for more vids and pics from you. It sucks so fucking bad. 
LOL! And another from the same hopeless loser:
Ms. Saffron,

 

I cannot afford anymore foot pics.  Guess what?  It doesn't matter.  I will buy them anyway.  I am so crazed for you that it has become a reflex to refresh my "Ms. Saffron" bookmarks all day and night. 

 

Twitter

Clipvia

Niteflirt mail

 

Like a drug addict waiting for his fix. I am so madly obsessed. I read "fucking worthless moron" and get a raging hardon that I haven't experienced since my teenage years 20 years ago. It is amazing that I can barely perform for my loving caring wife but get rock hard for a woman that thinks I am a moron and a sick freak.  Even worse. I am not getting rock hard looking at your tits or ass (though both are amazing!). I am getting hard for toes, soles, and verbal abuse. Makes me do very angry yet crazed at the same time. 
Too bad this stupid foot whore is too fucking broke to ever get any serious attention from Me. Sorry buddy, the occasional petty tribute just doesn't do it for Me. I have some more love letters from losers I might post later, but right now I'm kind of bored of writing and you dumbfucks are lucky I even take the time to write this in the first place, so in closing, I'll show off My most recent tribute from dumb cucky, received this morning:
Oh and P.S.– I'll be deleting quite a few, maybe even half of My clipvia clips soon, so go get them while you still can. They will be deleted by this weekend.  Bye losers.
Hey you dumbass sissy–I know your little secret, you tiny little girlyboy; I know how you love the feel of silky soft women's panties, your feet in heels, and being a little femmy bitch, especially when I force you into it. So sissies, I invite you to take Me on a very special shopping trip. To enter, send Me an Amazon Giftcard to spoilsaffron@yahoo.com so that I may buy TONS of new makeup, and I will be making a CUSTOM MAKEUP TUTORIAL VIDEO of Me applying makeup to MY BEAUTIFUL FACE for the sissybitch who wins!! The winner is whoever sends the highest tribute amount before Friday, Sept 2nd, and will get the customized, personal video for free, in addition to an accompanying picture set. I will not only mesmerize you with My beauty in the video, but I will also teach you valuable and useful makeup skills to use on yourself. The video will be available for sale on My kinkbomb account for those who don't win, but will be very expensive; however, those that send at least $100 tribute will receive a special discount code for 75% off! GET TO WORK GIRLIEPIGS!!