Blog Archives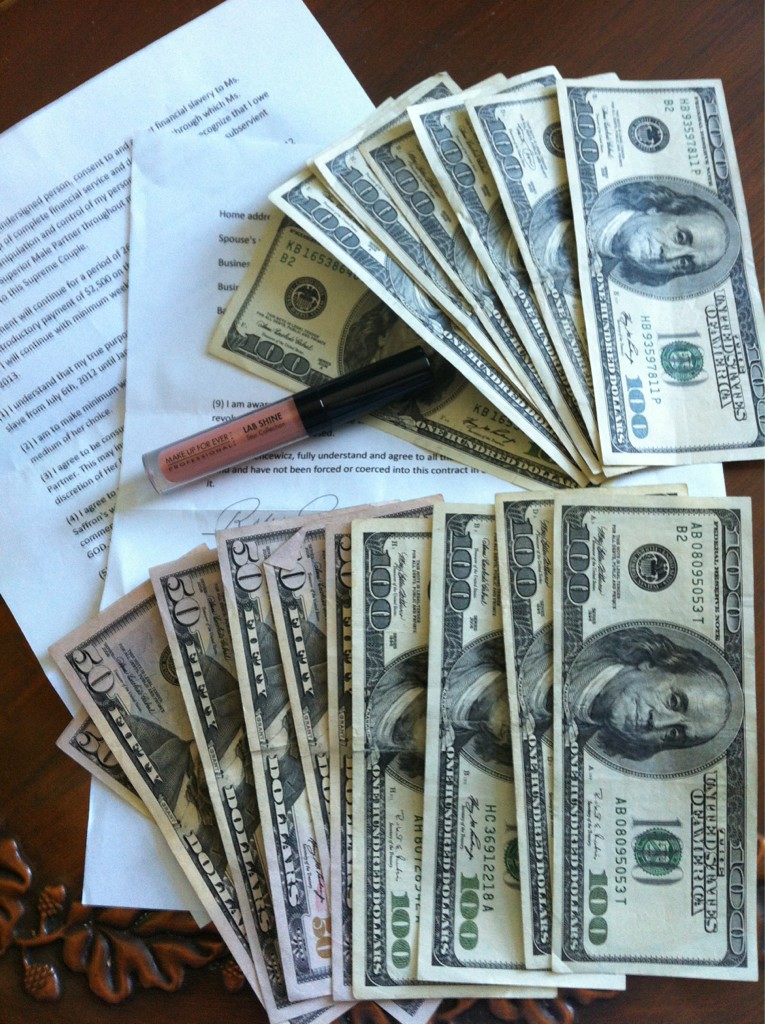 Hello dummies! Has it been a while or what? I barely even know where to start! I've been so busy having so much fun on pig dime that I really haven't bothered to much to maintain My blog or My twitter, and adding in school, I've had so little free time. Before you fret, I've now decided I'm going to make much more of an effort to update you dorks about My lavish lifestyle!
So anyway, if you follow My twitter at all, you probably noticed back in the summer I had My slave maggot signed into permanent servitude with a contract, which you can view on the left. That is part of his initiation tribute, the rest of which he paid on venmo–which I LOVE, by the way–for a total of $2,500. He has been tributing weekly ever since, like a good little slut should, in addition to buying Me all sorts of presents and sending money at My whim in order to fund My wonderful lifestyle. He has spent TENS OF THOUSANDS of dollars on My Glorious Self. Sometimes, My girlfriends and I double team him and screw his wallet especially hard. After all, We deserve it more than anyone, no?
Many slaves get so excited by this notion of long term commitment, but few follow through. My suggestion? Take the leap. maggot knows he will be serving Me forever, through thick and thin, and has come to accept that he will always be working hard for Me, and that I will always be #1 on his mind. The pure satisfaction of serving Me and receiving My abuse is the biggest perk for him, and brings his life meaning and contentment. Slaves that run and hide from Me have Me eating away at their mind forever, wondering what could have been. Isn't the obvious answer to submit?
Anyway, I've collected some photos of a few of the great presents I've received lately, and these really are just a few of My favorites. In addition to all the really cute and awesome stuff below, I've received countless other smaller gifts, an awesome new television, THREE iPads (one for Me, one for My 91 year old great-grandmother, one for a close friend), two laptops (one for My boyfriend and one for My little brother), and TONS of clothes.
Obviously, I absolutely love EVERYTHING I've received (mainly because I leave nothing up to chance and order you to get EXACTLY what I want, haha) but I really especially love My Marc by Marc Jacobs bag! I wear it to school all the time. I also REALLY adore My new Christian Louboutin shoes, however I unfortunately sprained My ankle last weekend and I am still recovering, so I haven't been able to wear them yet :(. I was honestly devastated! I don't think I'm supposed to wear heels for at least another month or so. Oh yeah! And I almost forgot to show off My Gucci bag and My Brian Atwood heels!
I love the cool oil slick look! Aside from all the wonderful gifts I have received, I have been totally living it up. I recently visited some close friends of Mine in Philadelphia and We had a blast dining out, drinking, clubbing, partying, and spending TONS of dumb slave money. A few lucky slaves called My ignore line when We were out to eat, and My friends laughed their asses off when I told them our $500 dinner was going to be COMPLETELY covered by My little lovesick losers! In addition, I purchased a vacation package and I will be travelling to Tuscany, Italy with a family member for a week in February–I'm so excited! I've been to Europe before, but never Italy, and we will be staying in a beautiful farmhouse. We will have a rental car, and will only be about 45 minutes from Florence, which is just amazing. I'll be sure to take a TON of photos!
Anyway, let Me leave you dumb losers with a small reminder of why you are so undeserving of Me. 🙂
And I REALLY can't list the rest of the countless chump change $50 and $25 ones and I'm getting tired of finding gift cards BUT here's some ugly fucktard that sent his photo too, LOL:
ANYWAY, BYE LOSERS! And fuck you 🙂

Yeah, so this fucking stupid little blackmail whore paul tells Me that I MUST take his info down, there is no way in hell he's paying Me, blah blah blah….and he really pissed Me off. he told Me I might as well just tell his wife everything, soooo I called his bluff—and guess what? He fucking flipped out LMAO. Now his stupid bitch wife knows and he still has to pay up if he doesn't want Me to contact his employer! And of course the info stays up til he makes his payments. he's on his knees begging Me to let him give Me the $100 and take some info down…hahahaha, maybe, if you're lucky, bitch! Next time, don't fuck with Me, loser!
Oh, and here's what I said to his wife:
Hello there Annie,
My name is Saffron. I am emailing you about your piece of shit excuse for a husband, paul. I don't know if you had any inkling, but paul has a submissive fetish of giving young, beautiful women like Myself LOTS AND LOTS OF MONEY, and BEGGING Me to blackmail him! LOL It's called "consensual blackmail". Your stupid husband messaged Me BEGGING Me to put all of his, yours, and his employer's personal information on My website, and sent Me $500 via gr**ndot which I have already started spending…entirely unprovoked, simply because he is a fucking STUPID hick! he also BEGGED Me to charge him $100 per piece of info if he wanted Me to remove it…totaling a whopping $1,000! he mentioned you guys are broke…how pathetic. your retard husband spent $500 on Me for fucking NOTHING, because now he says he doesn't have the money and there is no way he can afford to buy Me out, hence the reason I am contacting you. I know this must be hard for you to hear, but it's even harder for Me, because I am putting up with your idiot husband's moronic bullshit for chump change. Yeah yeah, he thinks I'm absolutely gorgeous, and cannot resist My stunning good looks paired with My biting intellect and cunning dominance, but what good is that if he can't spend money on Me? Not good, not good at all! Honestly Annie, if I were you, I would feel betrayed, angry, manipulated, and PATHETIC for marrying such a fucking LOSER, AND for not keeping his dumb ass in line! I suggest a divorce…if you can even afford that, LOL. Maybe just spitting in his face and kicking him out to live on the streets would suffice. Sorry about the news, but damn Annie, you have some shit poor judgment.
Oh, by the way, just so you know this is REAL, you can view the information he gave Me, plus photos of him here:
Sincerely,
Ms. Saffron
www.spoilsaffron.com
LATER LOSERS
P.S. I'll do a gift update soon, I just have been really busy having lots of fun with My boyfriend!!