Blog Archives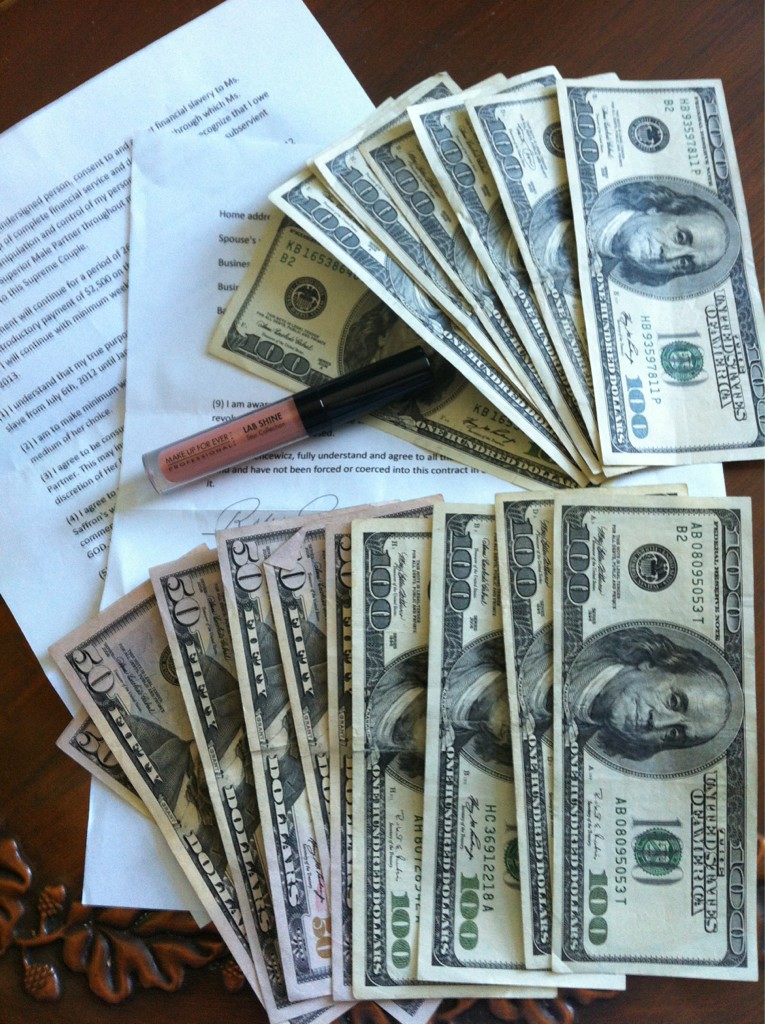 Hello dummies! Has it been a while or what? I barely even know where to start! I've been so busy having so much fun on pig dime that I really haven't bothered to much to maintain My blog or My twitter, and adding in school, I've had so little free time. Before you fret, I've now decided I'm going to make much more of an effort to update you dorks about My lavish lifestyle!
So anyway, if you follow My twitter at all, you probably noticed back in the summer I had My slave maggot signed into permanent servitude with a contract, which you can view on the left. That is part of his initiation tribute, the rest of which he paid on venmo–which I LOVE, by the way–for a total of $2,500. He has been tributing weekly ever since, like a good little slut should, in addition to buying Me all sorts of presents and sending money at My whim in order to fund My wonderful lifestyle. He has spent TENS OF THOUSANDS of dollars on My Glorious Self. Sometimes, My girlfriends and I double team him and screw his wallet especially hard. After all, We deserve it more than anyone, no?
Many slaves get so excited by this notion of long term commitment, but few follow through. My suggestion? Take the leap. maggot knows he will be serving Me forever, through thick and thin, and has come to accept that he will always be working hard for Me, and that I will always be #1 on his mind. The pure satisfaction of serving Me and receiving My abuse is the biggest perk for him, and brings his life meaning and contentment. Slaves that run and hide from Me have Me eating away at their mind forever, wondering what could have been. Isn't the obvious answer to submit?
Anyway, I've collected some photos of a few of the great presents I've received lately, and these really are just a few of My favorites. In addition to all the really cute and awesome stuff below, I've received countless other smaller gifts, an awesome new television, THREE iPads (one for Me, one for My 91 year old great-grandmother, one for a close friend), two laptops (one for My boyfriend and one for My little brother), and TONS of clothes.
Obviously, I absolutely love EVERYTHING I've received (mainly because I leave nothing up to chance and order you to get EXACTLY what I want, haha) but I really especially love My Marc by Marc Jacobs bag! I wear it to school all the time. I also REALLY adore My new Christian Louboutin shoes, however I unfortunately sprained My ankle last weekend and I am still recovering, so I haven't been able to wear them yet :(. I was honestly devastated! I don't think I'm supposed to wear heels for at least another month or so. Oh yeah! And I almost forgot to show off My Gucci bag and My Brian Atwood heels!
I love the cool oil slick look! Aside from all the wonderful gifts I have received, I have been totally living it up. I recently visited some close friends of Mine in Philadelphia and We had a blast dining out, drinking, clubbing, partying, and spending TONS of dumb slave money. A few lucky slaves called My ignore line when We were out to eat, and My friends laughed their asses off when I told them our $500 dinner was going to be COMPLETELY covered by My little lovesick losers! In addition, I purchased a vacation package and I will be travelling to Tuscany, Italy with a family member for a week in February–I'm so excited! I've been to Europe before, but never Italy, and we will be staying in a beautiful farmhouse. We will have a rental car, and will only be about 45 minutes from Florence, which is just amazing. I'll be sure to take a TON of photos!
Anyway, let Me leave you dumb losers with a small reminder of why you are so undeserving of Me. 🙂
And I REALLY can't list the rest of the countless chump change $50 and $25 ones and I'm getting tired of finding gift cards BUT here's some ugly fucktard that sent his photo too, LOL:
ANYWAY, BYE LOSERS! And fuck you 🙂

A guest post from My little slave john:
Ms. Saffron has a hold on me like no one else ever has or ever will.  My entire body belongs to Her, but specifically my cock.  This is something that i both find frustrating and love at the same time.  Ms. Saffron has the ability to deny me any pleasure or to allow me the most amazing experience possible.  It's all subject t Her whim and i have no control over the matter.
my worthless cock is completely owned by Ms. Saffron.  i can never even hope to use it, just to have a chance to touch it is a gift Ms. Saffron allows only occasionally.  i know deep down that even one touch of my cock is undeserved, as it is Ms. Saffron's property and is Hers to do as She pleases with.  If She decides that i cannot even look at it for a month, that is what i need to do, as it's Her personal property.
i love Ms. Saffron so much.  i love the control She has over me, even when i wish i could use my cock, i know that Her guidance is what's best for me.  Her pleasure is all that matters to me and i'm so lucky to get to pay for Her nights out with Her boyfriend and buy Her whatever She desires.  These are the gifts that Ms. Saffron allows me to have, the gifts of knowing i've done something to please Her.  
i'm such a lucky loser.  i don't deserve anything and Ms. Saffron allows me to have so much. 
From My latest broke little piece of shit, who barely deserves any attention whatsoever:
i've had the opportunity to serve Ms. Saffron for a few weeks (and much more money than i'd like to say) now.  Words cannot express just how amazing, sexy, and all around perfect she is.  Too often in life Your expectations don't live up to reality, but with Ms. Saffron quite the opposite is true.  Every moment spent serving Her is a moment i'd rather be nowhere else.
i came to Ms. Saffron in the hopes of serving casually and not losing much money.  That didn't last for too long.  Within a few days i had spent everything i had on Her.  Ms. Saffron is so good at milking money from me.  It was all gone before i knew it.  The worst part is, serving Her is so addictive and my need to give to Her is so great that as soon as i had an extra couple dollars, the first thing i did was go to Her wishlist and buy more things for Her and her boyfriend, as they deserve my money more than i do.
Before long Ms. Saffron let me know that orgasms, or even touching myself was a thing of the past, unless i could raise enough money to pay for that privilege.  As i had already spent every dime i had to spend on Her, for close to a week i went without being able to masturbate.  Needless to say i was very pent up and frustrated after just a few days, i was ready to explode after a week.
When the pain from my cock and balls got to be overwhelming, i asked Ms. Saffron for the cost of an orgasm.  She let me know the price for me was $250, and that She was being kind at that.  This was a price that i literally could not pay.  The only money i had to give was money i had been saving up for a few months for a very specific reason.
i let Ms. Saffron know that i was not able to pay that amount at that time, but She told me that She had a plan for me.  She had me masturbate until i was on the verge of orgasming but to stop at the last second.  After doing that i was in so much pain and agony but after a few minutes it subsided slightly.  Ms. Saffron then told me to do it again and stop, then again to the edge and stop, then again.  To say the least, i have never in my life felt as frustrated as i did after a week of not being able to cum and then 4 times of going to the edge then stopping.  This whole process lasted close to an hour.  The last time, Ms. Saffron told me not to stop touching myself, to keep going slowly to frustrate me further.  It was extremely painful and my body was shaking uncontrollably.  Ms. Saffron then asked me if i wanted release.  i of course said yes.  She told me that the only way was to now give Her $300, $50 more than before.
Even though i didn't have that money to spend, i had to give it.  i was so horny and i couldn't say no to Ms. Saffron.  i gave Her the $300 out of my fund that i had been saving and was soon given permission to orgasm, but only while looking at a picture of the bottoms of Her perfect feet.  i came so hard, knowing that i had lost everything i had saved and then some to this perfect woman who treated me as if i were just an object to get paid.
When i was finished, Ms. Saffron had me lick up the cum in my hand and thank Her for the gift of the orgasm.  i know very well that She could have taken that money and then told me to fuck off.
Now i'm broke again and in a hole that i don't know how to climb out of.  Ms. Saffron is the only person to ever suck so much from me.  i wish i could escape Her web but i feel more drawn to serve Her than ever.
Piggies ALWAYS pay up 🙂