Blog Archives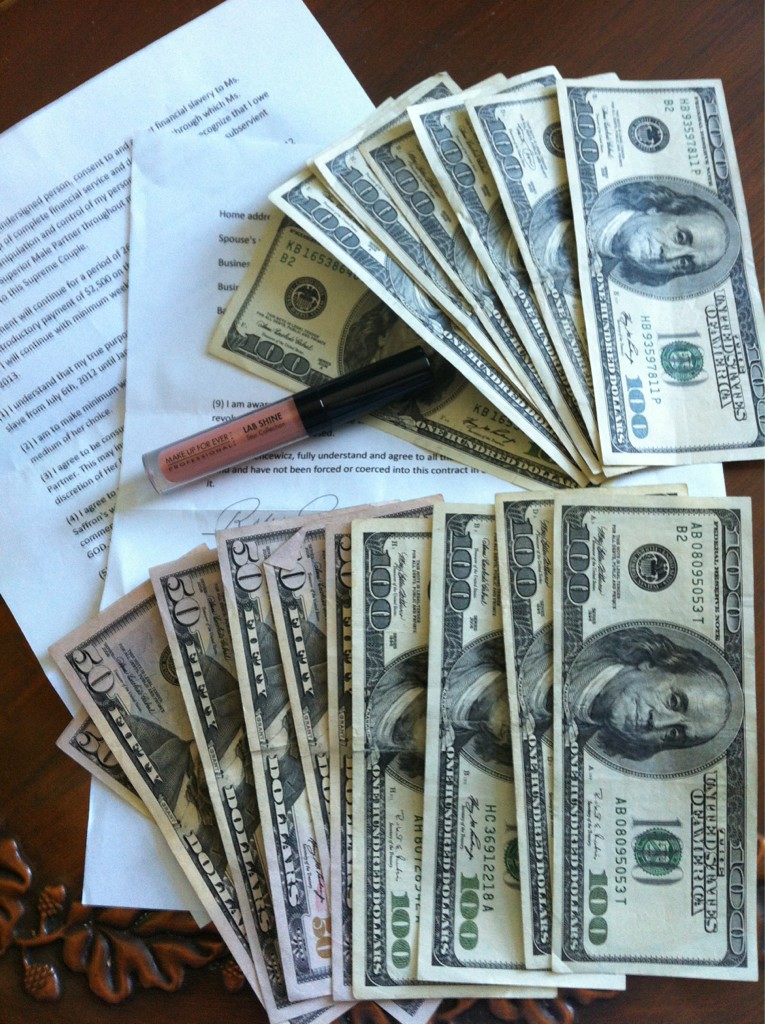 Hello dummies! Has it been a while or what? I barely even know where to start! I've been so busy having so much fun on pig dime that I really haven't bothered to much to maintain My blog or My twitter, and adding in school, I've had so little free time. Before you fret, I've now decided I'm going to make much more of an effort to update you dorks about My lavish lifestyle!
So anyway, if you follow My twitter at all, you probably noticed back in the summer I had My slave maggot signed into permanent servitude with a contract, which you can view on the left. That is part of his initiation tribute, the rest of which he paid on venmo–which I LOVE, by the way–for a total of $2,500. He has been tributing weekly ever since, like a good little slut should, in addition to buying Me all sorts of presents and sending money at My whim in order to fund My wonderful lifestyle. He has spent TENS OF THOUSANDS of dollars on My Glorious Self. Sometimes, My girlfriends and I double team him and screw his wallet especially hard. After all, We deserve it more than anyone, no?
Many slaves get so excited by this notion of long term commitment, but few follow through. My suggestion? Take the leap. maggot knows he will be serving Me forever, through thick and thin, and has come to accept that he will always be working hard for Me, and that I will always be #1 on his mind. The pure satisfaction of serving Me and receiving My abuse is the biggest perk for him, and brings his life meaning and contentment. Slaves that run and hide from Me have Me eating away at their mind forever, wondering what could have been. Isn't the obvious answer to submit?
Anyway, I've collected some photos of a few of the great presents I've received lately, and these really are just a few of My favorites. In addition to all the really cute and awesome stuff below, I've received countless other smaller gifts, an awesome new television, THREE iPads (one for Me, one for My 91 year old great-grandmother, one for a close friend), two laptops (one for My boyfriend and one for My little brother), and TONS of clothes.
Obviously, I absolutely love EVERYTHING I've received (mainly because I leave nothing up to chance and order you to get EXACTLY what I want, haha) but I really especially love My Marc by Marc Jacobs bag! I wear it to school all the time. I also REALLY adore My new Christian Louboutin shoes, however I unfortunately sprained My ankle last weekend and I am still recovering, so I haven't been able to wear them yet :(. I was honestly devastated! I don't think I'm supposed to wear heels for at least another month or so. Oh yeah! And I almost forgot to show off My Gucci bag and My Brian Atwood heels!
I love the cool oil slick look! Aside from all the wonderful gifts I have received, I have been totally living it up. I recently visited some close friends of Mine in Philadelphia and We had a blast dining out, drinking, clubbing, partying, and spending TONS of dumb slave money. A few lucky slaves called My ignore line when We were out to eat, and My friends laughed their asses off when I told them our $500 dinner was going to be COMPLETELY covered by My little lovesick losers! In addition, I purchased a vacation package and I will be travelling to Tuscany, Italy with a family member for a week in February–I'm so excited! I've been to Europe before, but never Italy, and we will be staying in a beautiful farmhouse. We will have a rental car, and will only be about 45 minutes from Florence, which is just amazing. I'll be sure to take a TON of photos!
Anyway, let Me leave you dumb losers with a small reminder of why you are so undeserving of Me. 🙂
And I REALLY can't list the rest of the countless chump change $50 and $25 ones and I'm getting tired of finding gift cards BUT here's some ugly fucktard that sent his photo too, LOL:
ANYWAY, BYE LOSERS! And fuck you 🙂

Sorry, fuckers. I know you've been sitting at your computers drooling all over yourselves waiting for My return. I've been so busy though!! With Christmas, the new year, My birthday…plus everything else!! I went and visited My friend out of state with My boyfriend for a while as well…so much fun. Haven't stopped raking in cash from you fucking losers, though, hahahaa. I've been mostly accepting cash and hoarding amazon giftcards (I have like $800 sitting in My account at the moment), but I've also been on a makeup BINGE. I got a really cute sparkly purple makeup bag from Urban Decay and I love it SOOO fucking much holy shit….I love all things purple and pink and sparkly so obviously I HAD to get it. I got a new blush and under eye concealer from Benefit, an AWESOME long lasting 24/7 eyeliner from Urban Decay, Urban Decay's All Nighter makeup setting spray (awesome for going out), MAC eyebrow pencil, and MAC Wonder Woman eyeliner marker, among other things. I also have some Makeup Forever HD Foundation & Powder coming…I tried it out at Sephora once before and that stuff is AMAZING.
Oh yeah, and I got some new boots & flats….I love them SO MUCH!! The boots are ESPECIALLY comfy even though they are pretty high heels–I got them thanks to some boot whore named francois who forked over probably $500ish in amazon gift cards against his will, LOL, completely hypnotized by My feet in My leather boots….fucking hilarious. I also got him shitfaced and got him to tell Me details about his life even though he was terrified to even tell Me his first name…guess he got scared and ran away. Whatever, little bitch will be back. Such a whore for My boots.
ANYWAY, the latest bitch I've been abusing is a little cuckold whore who out of the fucking blue sent Me $500, and you know I like that shit.
SO I decided to put this stupid bitch to good use and make sure he's My little whore for Valentine's Day and buys shit for Me and MY Man. The dumb little moneyslut followed My orders IMMEDIATELY, just like I like, sending Me a $200 gift card for lingerie and dropping $100 at godiva.com to get some chocolates for My boyfriend shipped express. He's also mailed an envelope full of $$cash$$ I am expecting Monday and will most certainly show off. Oh! And I bought the new Lelo Tor II on Amazon, it's a waterproof rechargeable cock ring with super high vibration capabilities. Can't wait to use it with My Man on Valentine's. 😉 Hahahahha. I love taunting you fucking dumbasses. Anyway, if any of you other pathetic little grovelling piggies want in on contributing to My amazing Valentine's Day, shoot Me an email and I'll find a spot for you, LOL.
OH, and whatever bitches keep calling Me at fucking 5am…don't be surprised if I don't fucking pick up jesus christ I'm either asleep or busy having fun LOL christ. It's been a while since I sufficiently abused any of you fuckers on Niteflirt but I'm overdue. I keep getting these poor shits that call Me for like 3 minutes…LOL so fucking boring. Whatever. A quick buck for Me I guess. I might as well ignore your dumb ass. Make sure you have a good chunk of change if you call Me, My line is fucking $7.99 for a reason, it's because I AM HERE TO TAKE YOUR MONEY, omfg. AND DON'T CALL MY IGNORE LINE AND TRY TO TALK TO ME LOL!!!!
Anyway, I have to go get ready, I'm going out tonight–I'm actually going clubbing for the first time since I've turned 21. Going to be a fucking blast. And speaking of My ignore line, give Me a ring after 8PM EST and I'll fucking ignore you while I drink and party LOL
Bye fuckers. Look forward to more frequent updates, and go buy Me shit NOW:
Hey cuck bitches–it's just ONE WEEK until My boyfriend's birthday, and there are still a few things that I want for this evening to make it extra special! So here's My latest demands from you losers:
1. The remainder of items marked "BF'S SPECIAL NIGHT" on My wishlist! Some have already been purchased, but there are quite a few left. Amazon giftcards to SpoilSaffron@yahoo.com are also helpful
2. $300 gift card to Hips & Curves (send to SpoilSaffron@yahoo.com) for new, high-quality lingerie.
3. Minimum $250 MoneyPak for dinner & festivities on the night of his birthday.
GET GOING CUCKY DUMBASS!! Don't miss your chance to fork over your hard earned cash for a real man, loser!!